Marugbo Soup Recipe || Obe Eweta || Ikale Black Soup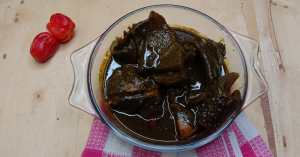 What is Marugbo Soup?
Today's recipe is Marugbo soup also called Obe Eweta or referred to as black soup in English. Black soup is a medicinal soup cooked/eaten by different tribes in Nigeria although with varying ingredients. In western Nigeria, the Yorubas prepare this soup for new mothers as it is known for its therapeutic and cleansing effect on the digestive system.
The Ikale people of Ondo state cook this soup with Marugbo leaves, basil (also called efirin in Yoruba language) and spices that make the soup delicious and medicinal. People drink this soup as medicine or eat it with pupuru a native swallow prepared from processed cassava.
If you want to read about Pupuru and how it is prepared please subscribe to my blog. You can also watch this recipe on Youtube CLICK HERE
In modern day cooking some adjustments have been done to the recipe because some of the ingredients are not readily available. Luckily, I was able to get all the traditional ingredients used for this soup.
Marugbo soup ingredients.
The ingredients for marugbo soup or obe eweta are a follows;
15 marugbo leaves (can be replaced with Marugbo leaf Powder)
8 efirin leaves (basil)
1 aidan fruit (Aridan/Prekese)
2 tablespoon ginger paste
10 umilo seeds
8 scotch bonnet peppers (Ata Rodo)
15 calabash nutmegs (Ariwo)
1⅟₂ tablespoons fennel seeds
10 grains of selim or negro pepper (Eeru alamo)
1⅟₂ tablespoon cloves (kanafuru)
1⅟₂ tablespoon Uziza seeds (Iyere)
4 gbafilo nuts
2 tablespoon palm oil
1 teaspoon salt
1 teaspoon seasoning powder
7 pieces of cooked chicken
7 pieces of ponmo/cowskin
Chicken stock
How To cook Marugbo soup
Blend all the ingredients together with the exception of palm oil, salt, seasoning powder , cooked chicken , cow skin and chicken stock.
Pour the blended ingredients into a pot.
Add palm oil, seasoning powder , salt, cooked chicken, ponmo and chicken stock.
Cook for 20 – 25 minutes.
The soup is best enjoyed in a watery form so it is best not to allow the soup thicken.
Marigbo/obe eweta soup is ready.
On a scale of 1 – 10 are you likely to try this recipe? Please leave our response in the comment section