This blog post will be more like an essay on how to prepare jollof rice because I will also be writing about how to make peppered chicken which is one of the most popular protein-based food combined with jollof rice.
After reading this recipe which will of course include jollof rice ingredient list, you will realise that there is nothing like jollof rice secret ingredient list.
As a matter of fact, you don't even need jollof rice spice mix to achieve that signature red-ish colour of Jollof rice.
Jollof rice
As delicious as it is, the process of cooking jollof rice and Nigerian peppered chicken from scratch is interwoven and also a time consuming one. But with the proper progression you will find it easy and simple to cook.
In this recipe, the first thing to be done is to prepare the peppered chicken. This chicken recipe also yields delicious homemade chicken stock which can be used to cook in many other recipes to achieve a delicious taste.
Peppered chicken ingredients
500g raw chicken
1.5 cups water
3 bay leaves
4 medium sized onions
3 teaspoons salt
3.5 teaspoons chicken seasoning
2.5 teaspoons curry powder
2 teaspoons thyme
2 cups groundnut oil (use vegetable oil of your choice)
140g tomatoes paste
7 tomatoes
2 red bell pepper
7 shombo (cayenne pepper)
4 ata rodo (scotch bonnet pepper)
Cooking Procedure
Boiling the chicken
Clean the chicken and put all cleaned chicken into a pot
Place the pot on the cooker on low heat
Add sliced onions, 1 teaspoon curry powder, 1 teaspoon thyme, 1.5 teaspoons chicken seasoning, 1 teaspoon salt and bay leaves.
Mix together and let it simmer on low heat for 10 minutes – this is to get the extract some of the liquid from the chicken before adding more water
After 10 minutes add 1.5 cups of water
Mix well and let it cook oh high heat for 10 more minutes.
Let's make chicken stock
After boiling the chicken for 10 more minutes on high heat
Take the pot of the cooker
Get a bowl and a colander, place the bowl underneath the strainer
Take out the chicken from the pot and place in a colander in order to drain excess chicken stock
Get a bowl and a fine mesh strainer
Place the bowl underneath the strainer and pour the chicken stock into the strainer- this will separate the particles to the chicken stock.
Strain twice and your delicious homemade chicken stock is ready
Peppered chicken sauce and peppered chicken
Peel off the outer skin of the onions
Clean the tomatoes, onions, red bell peppers, cayenne pepper and scotch bonnet peppers with clean water
Blend all tomatoes, peppers and 2 onions to a rough texture and set aside
Slice 1 onions and set aside
Place a frying pan on the cooker and pour 2 cups of groundnut oil into a frying pan
Heat the oil until it is hot enough
Put the boiled chicken into the hot oil
Fry both sides until it is golden brown
Remove the fried chicken from the hot oil
Put a clean pot on the cooker
Pour some of the oil used in frying the chicken into the pot
Add the sliced onions and fry for 2-3 minutes
Add tomato paste and fry for 5 minutes
Add the fresh blended tomatoes, peppers and onions
Also add 2 teaspoons chicken seasoning, 2 teaspoons salt, 1.5 teaspoon curry powder, 1 teaspoon thyme and the chicken stock.
Mix well and cook for 10-15 minutes
Add fried chicken and let it simmer for 5 minutes.
Take out the chicken from the sauce and Nigerian peppered chicken is ready.
Now that are delicious peppered chicken is ready, let's make Jollof rice
How to cook Jollof rice
At this point in this recipe the hard work is already done and all you need to do is make a little more effort that will result in a delicious and attractive jollof rice.
On a lighter note, to resist the temptation of eating all that delicious peppered chicken is a lot of work. But try your best to ignore the chicken until jollof rice is ready.
Jollof rice ingredient list
2 cups of rice (for this recipe I used Nigerian short grain rice)
6 cups water
3 bay leaves
1.5 teaspoons salt
2 teaspoons chicken seasoning
1.5 teaspoons curry powder
1 teaspoons thyme
Sauce used to make peppered chicken earlier
Cooking procedure
Clean raw rice in water until the water becomes clear
Pour the cleaned rice into a pot
Add 4 cups of water and parboil for 10 minutes
After 10 minutes pour the rice in a strainer to remove the excess rice water
Set aside the rice and dispose the rice water – This is done to remove some of the excess starch in the rice so that the jollof rice will be fluffy and nice
Add 2 cups of water in the pot that contains the sauce used to make peppered chicken
Also add, bay leaves, salt, chicken seasoning, curry powder and thyme
Mix well, cover the pot and allow the mixture boil
Add the parboiled rice to the boiling mixture and cook for 20 minutes on high heat
When the sauce dries up with the rice, Jollof rice is ready.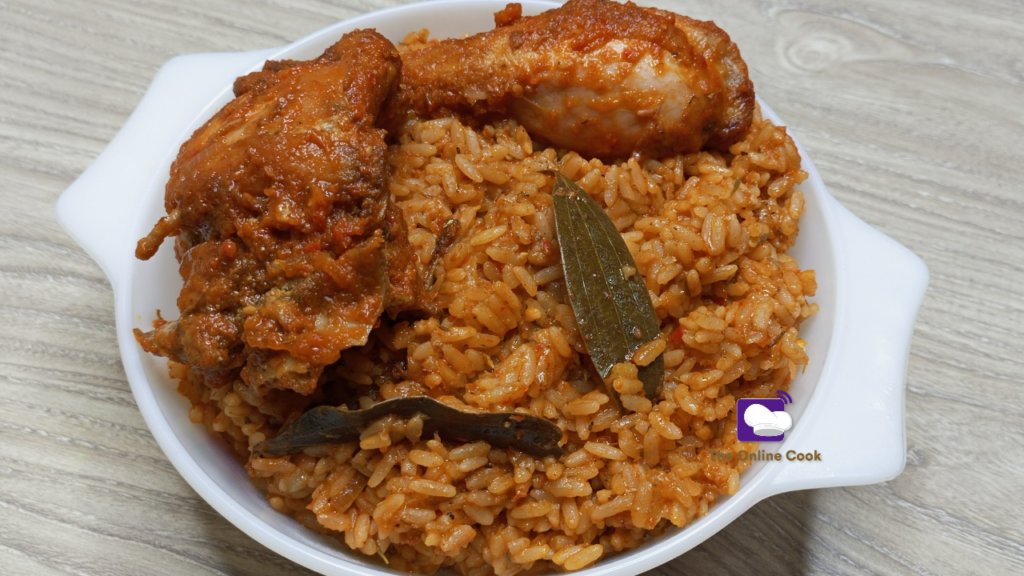 Cooking Tip
After 15 minutes, you may notice that the rice sounds like it is burning or dry underneath but there is still some liquid on top. Get a wooden spoon or omorogun, put it in the sides of the pot and gently lift the rice so that all the liquid on top could go to the bottom to be properly dried.
You can also watch the video of this recipe on my YouTube channel by clicking on the video icon below