How To Make Pounded Yam – Old Fashioned Pounded Yam With Pestle And Mortar
In western Nigeria, pounded yam in Yoruba language is called Iyan and it is especially a favorite swallow amongst the Ondo and Ekiti people.
Over the years, the process of making pounded yam – iyan – has become easier because of different technological inventions that makes the process less energy consuming and more stress-free.
Nowadays, you can make pounded yam in your kitchen without asserting too much effort just like you are cooking rice or spaghetti or even noodles.
Infact your neighbors won't even know you are pounding yam unlike when you use the traditional methods.
Yes with inventions like yam pounder, high powered blenders and food processors, you can make pounded yam for your family without breaking a sweat.
That is easier that when you have to use wooden pestle and mortar to pound boiled yam continuously until you achieve a uniform soft texture with no lumps.
But it wasn't always like this.
Traditionally, Iyan is made with wooden Pestle and mortar and many people still continue this Old-fashioned Way.
Infact, people who know the difference will argue that pounded yam made with machines is not so great.
As the name implies, Pounded yam derives it name from the major ingredient used for cooking this food and the cooking process.
It is basically the process of putting cooked yam in a mortar and pounding the yams continuously with a pestle until it binds well and becomes elastic.
It is usually made while standing so it requires a lot of energy, this is the reason why it was mostly reserved for special occasions and celebrations.
Although there are different types of pestles and mortars made of different material which comes in different sizes. The pestle and mortar used for pounded yam are large in size and made of wood.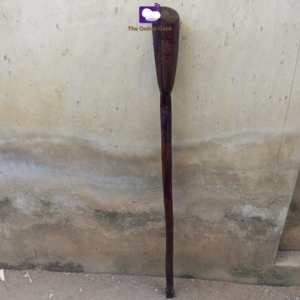 They pestle is often about 5feet long while the mortar is usually round and about 30cm wide and it can be easily bought from wooden carver or kitchen utensils retailers all around Nigeria.
At this point, I have to tell you that the pestle and mortar is not only reserved for pounding yam. It is also used for pounding fufu, cocoyam, palm fruits and even cooking seeds and spices to turn them to powder.
And the amazing thing about this Nigerian swallow is that, it combines well with many Nigerian soups such as;
POUNDED YAM INGREDIENTS
UTENSILS NEEDED.
Wooden pestle
Wooden mortar
Pot
PREPARATION
Clean your cooking surface
Cut yams in slices and peel the skin
Rinse the peeled yams well and put in a pot
do not add salt
Cook yam till it is soft
Bring out your wooden pestle and mortar
Wash the Pestle and mortar thoroughly with just water
do not wash your pestle and mortar with soap. this is because wood absorbs liquid fast and washing with soapy water would make your pounded yam taste like soap because the mortar already absolved the soapy water
Here you will need the help of another person. When the yams are well cooked and soft the person will be in charge of putting the yams into the mortar so that you can start pounding.
Make sure to pound the yams immediately in order to be able to get to all the yams so that your pounded yam will not have lumps
While pounding, when the yams become sticking get a bowl of clean water
Dip the tip of the pestle in clean water at various intervals so that you can get a smooth and uniform pounded yam texture
When you achieve a smooth texture, then it is time to make the pounded yam fluffy
To get fluffy pounded yam, add some yam water – i.e the water used for cooking the yam- to the pounded yam
Continue pounding the yam until it is properly mixed with the yam water and has a fluffy texture.
Please note that the fluffy texture will also be stretchy but not too soft
Scoop pounded yam with Igbako ( traditional scooping spoon) into your plates and if you are not ready to eat your pounded yam it is better to scoop it into nylon or leave.
Please note that pounded yam is best enjoyed hot or warm with your favorite soup.
After pounding yam, it is best you wash the pestle and mortar immediately before the pounded yam residue becomes hard and difficult to clean.
As earlier stated to clean pestle and mortar used to pound yam, all you need is just sponge and a lot of water especially if you plan to use the use it the next day.
You might be tempted to use soap but you have to remember that the mortar and pestle is made of wood and this means that it will most likely absorb the soapy water just as it will most likely absorb some of the clean water you use.
Although the washing process is tedious and time consuming but once you are done make sure you let them air dry in a cool place because if you dry them in the sun, the sun will damage it and cause it to break.
This is how Old-fashioned pounded yam is made. If you would like to watch the video of this recipe on YouTube CLICK HERE