Peppered fish is one of the common Nigerian fish recipes. Some people call it fish in Pepper sauce or Pepper fish because the fish sauce is always spicy.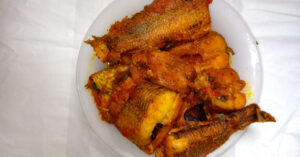 Just like peppered chicken, peppered snail, peppered meat and even peppered turkey, it can be eaten for breakfast, brunch, lunch and dinner.
The popular types of fishes used for this recipe are Mackerel, Croaker, Argentina Silus, Hake, Horse Mackerel and Tilapia. The fish can also be in roasted , grilled or fried form
In Nigeria, it is a popular kind of food/snack served in parties, family reunions, get-togethers and even for picnics. If you wish you can call it a Nigerian dessert.
Enough of the introduction!!!
Let's start with the ingredients needed.
INGREDIENTS
Fish
Vegetable oi
Roughly blended tomatoes, chilli Pepper,onions and Bell pepper
Salt
Curry powder
Thyme
Ginger powder
Seasoning powder
COOKING PROCEDURE
Frying the fish
Add some 1 teaspoon salt to the fishes.
Toss it up so that it mixes well with the fishes
Place clean frying pan on fire.
Pour vegetable oil into frying pan
Allow oil heat up
Place fishes in hot oil
Allow the fishes fry till edges are golden brown
Turn the fishes to allow the other side fry to a nice shade of golden brown…..
Pepper Sauce Preparation
Place a clean pot on fire.
Add some of the hot oil used for frying the fish.
Pour in the roughly blended Tomatoes, chilli Pepper, Onions and bell pepper paste.
Add Ginger powder, seasoning powder, Curry powder,thyme leaves and salt in little quantity.
Stir the mixture.
Cover the pot with lid and allow to cook for 5 – 7 minutes.
Taste the sauce and add more salt or seasoning powder (if necessary).
Peppered Fish Preparation
Put the fried fishes in the pepper sauce
Gently mix to make sure the fishes are properly coated with the sauce
Cover the pot and allow to cook for 1-3 minutes on low heat
PEPPERED FRIED FISH IS READY.
Peppered Fish can be served with a variety of dishes such as Jollof rice, fried rice, dinner rolls, fried plantain, Garri and even with palm wine or a bottle of chilled drink.
Do you like this recipe? To watch the video recipe