Akara and pap is one of the most popular Nigerian breakfast combinations ever. In fact some people say it is the best Nigerian breakfast you should always start your day with.
Nonetheless, there are so many Nigerian breakfasts that I think you should try at least once. Today, I share with you an easy Nigerian breakfast you will love.
Rice and coconut pudding
During Ramadan, rice and coconut pudding is a sweet and milky meal enjoyed by many people as one of the foods used to start the fast or break the fast.
This simple and healthy Nigerian breakfast is popularly enjoyed in the Northern part of Nigeria.
The original name for this food is in Hausa language, it is called Kunun Shinkafa da Kwakwa.
For easy understanding, here is the translation of the name as it implies, Kunun in Hausa language is used for 'pudding' like foods. 'Shinkafa' is rice while 'kwakwa' is coconut in Hausa language.
Nigerian breakfast ideas
Apart from pap and akara the below listed are some of the many Nigerian foods enjoyed as breakfast.
Here are some of breakfast ideas in Nigeria that you should try.
Puff puff and tea of your choice
Custard
Meat Pie and tea
Agege bread and tea
On the other hand, many Nigerian eat what they have or feel like eating for breakfast.
This is the reason why some people eat heavy foods like eba, pounded Yam and many more in the morning.
What I am trying to state is that , there are no clear-cut options that must be eaten for breakfast.
Ingredients for rice and coconut pap
1 cup rice flour
1 coconut
1 cup powdered milk
4 cups
6 almonds
Traditionally, this recipe is made with raw tuwo rice.
But because this is an easy recipe, I will be using rice flour.
How to make rice and coconut pap
Drain your coconut water from the coconut by making a hole in one of the three outlines on the coconut
Remove the coconut shell by breaking the coconut
Scrap the brown back off the coconut flesh to reveal an all white coconut flesh
Grate or blend the coconut flesh with some water
Separate the coconut milk from the chaff
Set aside the chaff to be used later
Add the rice flour into the coconut milk
Ensure you have a smooth paste by mixing very well
Set cooker on medium/high heat
Place pot on the cooker
Now pour water into the pot
Immediately add the rice and coconut milk paste
Mix continuously until pap thickens – the great thing is it thickens really fast in about five minutes.
For Texture, add 1 tablespoon of the coconut chaff
Continue mixing until it thickens to the consistency you want.
Add Powdered milk into a small bowl of water
Mix well till the milk completely dissolves
Pour the milk into the pap and mix well
Kunun Shinkafa Da Kwakwa is ready to be enjoyed.
It can be enjoyed alone or with nuts of your choice such as peanuts, almonds and many more.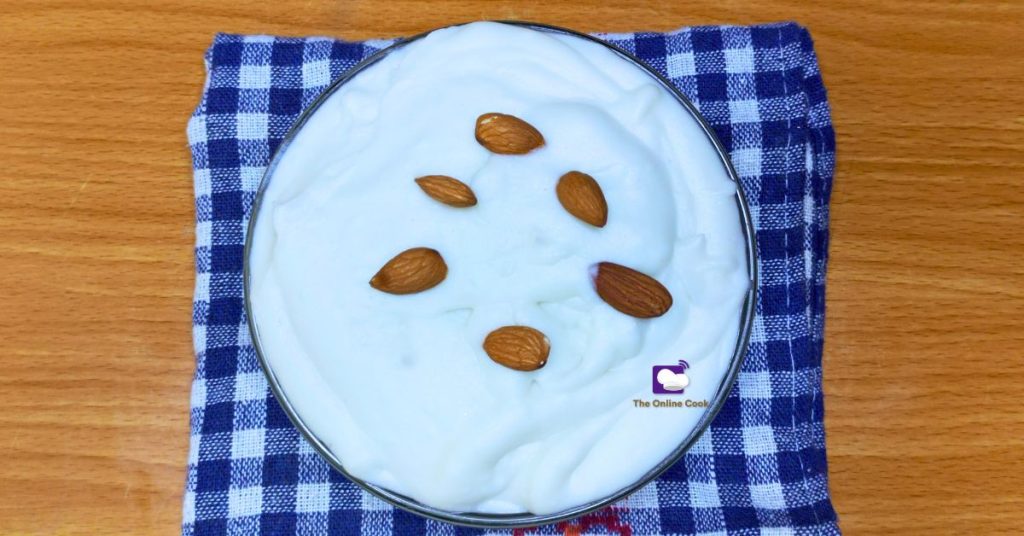 Come along to support me on YouTube here.
I have also made the video version of this recipe easily accessible for you. Click on the YouTube Video Icon below to watch it.
Become a member of my community of subscribers in order to get instant email notifications when I post new recipes.
To join is as simple as ABC, all you need to do is subscribe below.
As always, thank you for visiting my blog today. I hope you visit more often.
The Online Cook ©2023