How To Make Egusi Soup With Vegetables
Egusi soup
This recipe is on how to prepare egusi soup with ugu using taditional cooking gadgets and methods.
The major ingredient of egusi soup is egusi seeds which is also called melon seeds in English language.
After melon seeds are scooped out of the melon fruit, they are washed with a lot of clean water and dried.
The dried melon seeds are then deshelled to remove the yellow shells covering the creamy white egusi seeds which would be grinded to powder or blending into a paste and used for cooking egusi soup.
Recently, Egusi soup has become so popular worldwide that you can easily type 'egusi soup near me' and search engines will show you all the restaurants close to you that have egusi soup on their menu.
However you may ask questions such as, is egusi soup spicy? Yes, egusi soup can be spicy or not spicy. This heavily depends on the person cooking the soup.
For instance, the amount of scotch bonnet peppers used in this egusi soup recipe is aimed at achieving a spicy egusi soup.
But if you do not like to eat spicy foods, you can reduce the pepper or completely remove it from your egusi soup ingredients.
Ingredients for egusi soup
1 teaspoon Ogiri
1 cup Egusi seeds.
4 scotch bonnet pepper (ata rodo)
1 large onions
¼ cup Crayfish
1 teaspoon salt
2 seasoning cubes
½ cup palm oil
4 ponmo (cleaned)
2 panla fish (roasted hake fish)
7 dried fishes
Handful of sliced ugu leaves
Water
You can shop online for all these ingredients here
Or grab the limited Egusi Ingredients box offer here
On this blog, there are several easy egusi recipes that you may be interested in and you may also want to try. The links are listed below.
As stated earlier, before the use of electronic kitchen gadgets foods were cooked using traditional cooking methods, gadgets and utensil.
The traditional kitchen utensils and cooking gadgets used for this recipe are listed below.
Traditional Kitchen Utensils Used.
Olo ati omolo – flat Stone and the Cylindrical stone for grinding.
Charcoal.
local Coal pot/charcoal burner.
Preparation
Clean the dried fish and panla in clean water only and set aside separately.
Remove the bones in the Panla fish – this is serves as a safety precaution in order to avoid a choking incident.
Also clean the ugu leaves in clean water, slice the ugu leaves and one onions finely and set aside separately.
Place the grinding stone on a stable flat surface.
Wash it thoroughly with just water to remove dust.
Pour the egusi seeds, scotch bonnet peppers, crayfish and peeled onions in water.
Rinse well and change the water to a clean one.
Put the egusi on the Grinding Stone and move the small cylindrical stone back and forth – To watch the video of how to use grinding stone effectively and properly click here
After grinding the egusi, add the peppers, crayfish, onions and ogiri while grinding each ingredient one by one.
Scoop the grinded ingredients into a bowl and set aside.
Pour the charcoal into the coal pot.
Add some kerosene and few nylon bags (plastic bags) to help the fire last long enough to heat up the charcoal.
You may need to use a hand fan to blow the charcoal to get it to heat up fast.
When the charcoal starts to turn brigh red, it's time to start cooking.
After this recipe, I will write how to easily clean your grinding stone.
Now let's start cooking.
How to cook Egusi soup with vegetables
Rinse the pot and place it on the hot charcoal.
Allow the mixture in the pot dry up and add palm oil.
Heat palm oil briefly and add the deboned fishes.
Allow to fry for 1-2minutes and add sliced onions.
Mix well and allow to fry for 1 – 2 minutes.
Add the blended Egusi and other ingredients paste.
Mix very well and allow it fry 2-3 minutes.
After 3 minutes mix the egusi very well again to avoid getting burnt.
Add 3 cups of water, dried fishes, ponmo, salt and seasoning cubes.
Mix very well, cover the pot and it it cook for 10minutes.
After 10 minutes, mix the egusi soup well and add sliced ugu leaves.
Mix again and let it cook for 5 minutes.
After 5 minutes, Egusi soup with vegetables is ready.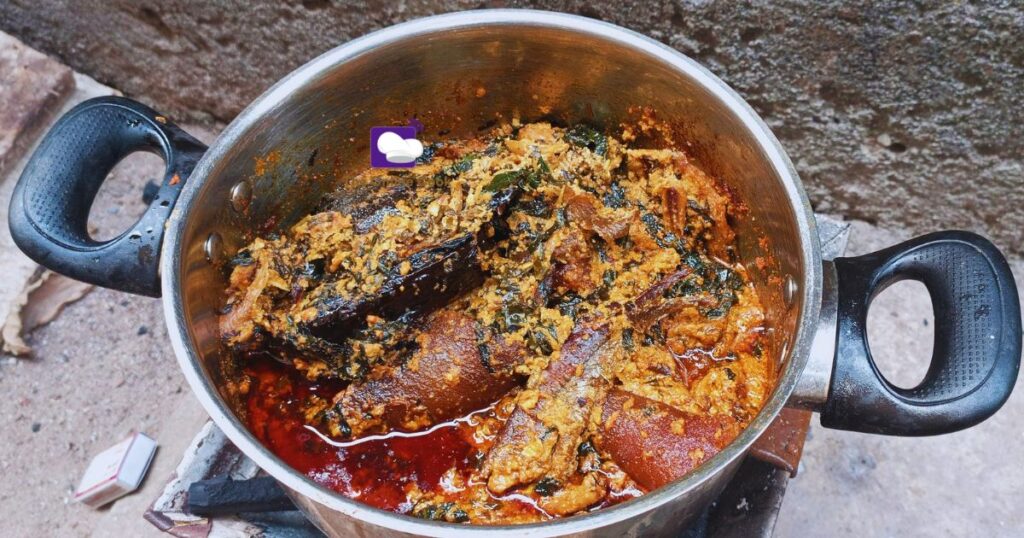 As earlier stated, You can watch and learn how to using grinding stone for grinding on my YouTube channel by clicking on the red play button below.
In the video, you would also see how this egusi soup was cooked using the frying method
Please note that, it is important that whenever grinding stone is used, it should be properly cleaned immediately after grinding.
This is the only way to be able to thoroughly clean it.
If left uncleaned, the ingredients will dry, thereby making it really hard to cleans.
The best cleaning method is the use of water.
Yes just water and Sponge.
It is not advisable to clean grinding stone with soap especially if you use it to grind food and also if you plan to use it soon.
This is because, even after rinsing the soap's smell and taste may still linger on the grinding stone.
Thereby causing your food to have a faint soap smell or taste.
So simply pour water on the grinding stone and scrub it well with sponge, ensuring that you get to all the books and cravices which the ingredients may stick to.
Rinse with enough water and that's it.
Thank you for visiting my blog, it is lovely to have you here.
© 2023 The Online Cook