How to cook Egbo And Ata Din din
Egbo is a delicious Yoruba food enjoyed by many Nigerians. In English language, egbo is called corn pottage or cornmeal porridge.
This is because the main ingredient for this simple Nigerian dish is dried corn.
For a wholesome experience, the authentic way to enjoy egbo is to combine it with delicious Nigerian Beans and its famous signature sauce just as it is in the picture below.
To make your visit to my blog worthwhile, I will be sharing with you how to make egbo and also how to make ata dindin – the signature sauce for this meal.
Ata dindin
Ata din din is a Yoruba word which means fried stew or fried sauce.
It is a special Nigerian pepper sauce made with different peppers, tomatoes, onions and other ingredients to be listed below.
This special fried stew has multipurpose use because it is delicious when combined different foods such as white rice, beans, yams, potatoes, spaghetti and many more.
To enjoy Nigerian swallow, ata dindin can be combined with different Nigerian soups listed below.
So, here are the ingredients you need to make egbo or corn pottage.
Ingredients for Egbo
2 cups white corn (crushed & peeled)
As you most have noticed above, you do not need a lot of ingredients when you want to cook egbo.
Come along as I write about how to cook egbo.
How to cook egbo
Pour the corn into a bowl of water to clean the corn
Put the cleaned corn into another bowl of water
Cover and allow it soak overnight or for a minimum of 8 hours – this is necessary to soften the dry corn, manage your resources as well as too reduce your cooking time.
Drain the water used to soak the corn
Rinse the softened corn again with water
Pour the corn into a pot of water
Add salt
Set your cooker to high heat
Place the pot on the cooker .
While cooking, check the corn at regular intervals
Add more water when needed
Cook the corn until it is very soft, I mean soft enough to be enjoyed.
Egbo is ready to be enjoyed.
Remember, I already stated above that just cooking egbo is not enough.
Combining it with Nigerian beans cooked without palm oil and fried stew is what make it a completely wholesome meal.
Now if you would like to learn how to make this special Nigerian fried stew, the list of ingredients as well as how to cook ata dindin is listed below.
Ingredients for Ata din din
6 tomatoes
2 bell peppers
4 scotch bonnet peppers
8 cayenne peppers
2 onions
1/4 cup bleached palm oil
1/2 tablespoon salt
2 tablespoons crayfish powder
1/2 tablespoon seasoning powder
4 panla fish (smoked hake fish)
The ingredients above are readily available in this shop .
Now that all the ingredients you need for ata din din has been listed above.
Below is a detailed 'no fail' step by step process on how to make ata din din.
How to fry ata din din
Clean tomatoes, peppers and peel off the skin of the onions.
Blend the tomatoes, peppers and onions to a rough texture.
Set the pepper aside
Clean the smoked fish and ponmo
Set you cooker to high heat
Place frying pan or sauce pan on the cooker
Pour bleached palm oil into the sauce pan
Allow palm oil heat up briefly
Pour pepper mix into hot oil
Add salt, crayfish powder, and seasoning powder
Mix well
Add panla, ponmo and cover the pot
Cook till the liquid dried well – check the video link below to see how dried the liquid should be
Simple, ata din din is ready to be eaten with egbo and beans.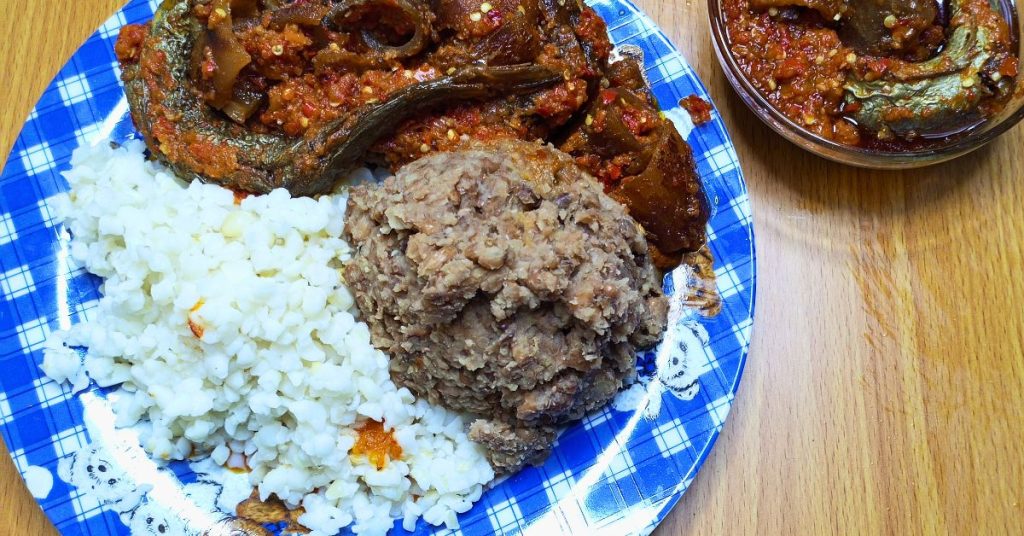 Support me by subscribing to my YouTube channel
The video of this recipe is also available here for free. All you need to do to watch is to click on the video icon below.
Thank you for always visiting this blog to read my amazingly simple but delicious recipes.
To get notified every time post new recipes, please subscribe below. Thank you
The Online Cook ©2023