How To Make Chicken Wings
Many people love eating chicken wings and I am one of them. So, I will be writing about how to make chicken wings the Nigerian way.
Simply put, this is a spicy Nigerian chicken wings recipe you should try if you love cooking and eating Nigerian foods.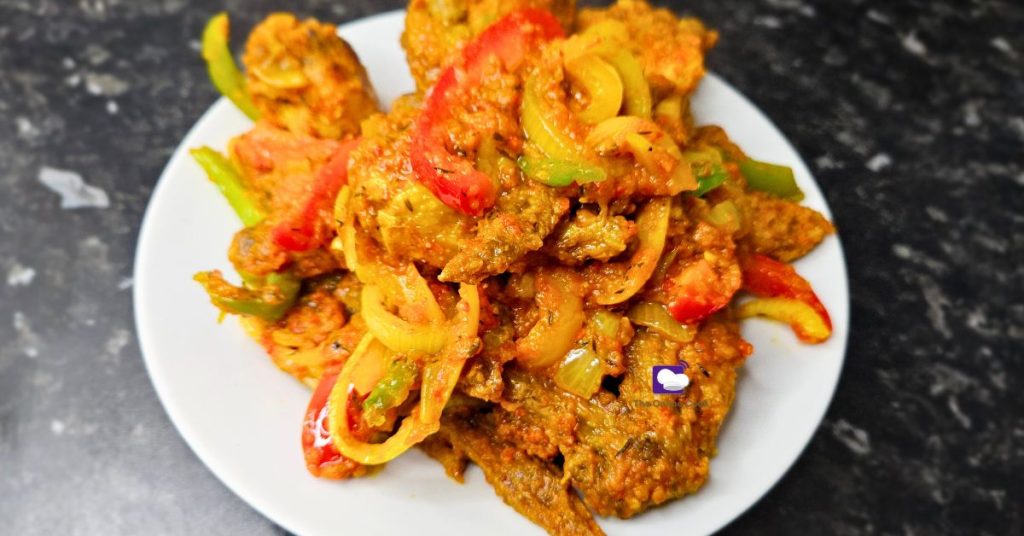 If this is your first time here, on this blog, you would find a lot of amazing and easy to follow Nigerian food cooking recipes.
So, thank you for visiting my Nigerian food recipes blog.
While you are here, I would like to tell you to subscribe so that you can get email notifications every time I post new recipes for you.
Here are the ingredients you for this recipe.
Spicy Nigerian Chicken wings Ingredients
1kg chicken wings
4 onions
2 scotch bonnet peppers
3-4 tomatoes
1½ tablespoons curry powder
2 bay leaves
1 teaspoon nutmeg
1½ table spoons thyme
1 tablespoon salt
2 seasoning cubes
1 teaspoon white pepper
1 yellow bell pepper
1 green bell pepper
1 red bell pepper
water
3 cups vegetable oil
How to make chicken wings – Nigerian style
This chicken recipe will be simplified into three (3) processes to make it easy to follow. The first process will be on how to season your chicken properly.
How to season chicken -Nigerian style
Clean chicken wings properly in water while also removing any feathers still on it
Pour the cleaned chicken into your pot
Add 1 tablespoon curry powder, 1 tablespoon thyme, 1 teaspoon nutmeg, 2 bay leaves, 1/2 tablespoon salt and 1 seasoning cube.
Add 3 cups of water and mix well
Cook for 15 minutes on high heat to ensure that the chicken wings are properly cooked.
Take the pot off the cooker after 15 minutes
Separate the chicken wings from the chicken stock
For more context, in Yoruba language chicken stock is called omi-eran.
Always save the chicken stock because it has so much flavour and can be used to cook popular Nigerian rice dishes such as jollof rice, coconut rice and many more.
I should also inform you that chicken stock is an important ingredient in cooking soups like chicken egusi soup , Efo riro and a host of others.
Now that the chicken wings have been deliciously seasoned and boiled, it is time for the second process which is making fried chicken wings.
Fried Chicken Wings
Before I continue with this process, you should be informed that you will have to exercise a great degree of self discipline going forward.
Lets make fried chicken wings.
Heat up enough vegetable oil in your frying pan
Arrange the boiled chicken wings in the hot oil
Nicely fry both sides to a light brown shade
Remove the fried chicken from the hot oil
Switch of the cooker because it is time to prepare the sauce.
If you like fried chicken like I do, I would advice that you hide the fried chicken wings immediately.
This is because you may end up eating it all before the sauce is ready.
Yes, this fried chicken is quite irresistible because it was seasoned and cooked properly.
Let's quickly make the easy sauce that will elevate your chicken wings to the next level.
Chicken wings sauce
Peel and blend 2 onions, 2 scotch bonnet peppers and tomatoes to a rough texture
Slice the remaining 2 onions and set aside
Also slice all the coloured peppers
Put your pot on the cooker
Add about 3 spoonful of the hot oil used for frying the chicken
Fry half of the chopped onions for 1 minute
Add the blended pepper and tomato mix
Season with 1/2 tablespoon curry powder, 1/2 curry powder, 1/2 white pepper, 1/2 salt and 1 seasoning cube.
Allow to cook for 10-15 minutes after mixing well
Add fried chicken wings and flavour with 2 spoonful of chicken stock
Cook for 5 minutes on medium heat
Add the remaining sliced onions and peppers
Mix well and allow simmer for 2 minutes of low heat
Nigerian style chicken wings is ready to be eaten as a finger food/snack, breakfast, lunch or dinner.
The amazing thing about this Nigerian spicy chicken wings is that it can be eaten alone of enjoyed with other foods such as listed below.
It can also be used as a protein of choice when eating any Nigerian swallow with soup like
Come along to my YouTube channel to watch the video of this recipe. While you are there, you could support me by subscribing t my YouTube channel as well.