How To Cook Egusi Soup With Ugu Leaves | Frying Method
Welcome !!! Thank you for stopping by, i hope you have a great time reading about delicious recipes here.
Today I will be writing about how to cook egusi soup with ugu leaves. Ugu leaves are commonly used to cook a wide variety of food and soups.
Egusi is cooked in a lot of west African cultures,Infact some people called it Agussi. It can also be cooked with fish, turkey, chicken or beef (either grilled, fried, boiled or smoked).
As a matter of fact, I ate the soup with fresh soft Fufu and as they say, the rest is history.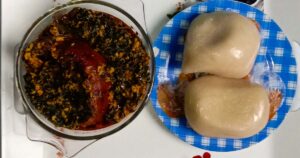 As we move along with the recipe, let me ask you – How many Fufu wraps can you finish? While you are thinking about it, let's continue with the recipe.
For this recipe, I will be using smoked Sole fish locally called "Eja Abo".
As we continue with this recipe, please subscribe to my blog for easy to cook weekly recipes.
INGREDIENTS
½ cup palm oil
2⅓ cups water
6 Tomatoes (optional)
1 medium sized Onions
4 Scotch bonnet peppers (ata rodo)
4 Bell peppers (tatashe)
Cooked Gizzards (diced – optional)
Gizzard stock(optional)
5 tablespoons Crayfish powder
2 tablespoons locust beans (Iru)
Bonga fish / agbodo (shawa fillets)
1⅟₂ cup grounded egusi (melon seed)
3pcs smoked sole fish (abo)
Ugu leaves (pumpkin leaves)
1⅟₂ teaspoon seasoning powder
PREPARATION
Wash and slice pumpkin leaves
After slicing, put leaves in a basket to drain excess water
Blend onions, bell peppers and scotch bonnet pepper to a rough consistency.
Pour palm oil in a pot and allow it heat up briefly.
Add locust beans and fry briefly.
Add the roughly blended pepper mix and fry for 3-5 minutes.
Add dices gizzards, agbodo, crayfish powder, salt, seasoning powder, and grounded egusi.
Fry for 5 minutes while continuously mixing it. So that it doesn't burn.
Add gizzard stock and 2cups water.
Mix properly to dissolve fried melon.
Add smoked sole fish
Cover the pot and Cook for 5-7 minutes.
Check soup to ensure it is not burning by gently stirring.
Cook for extra 5 minutes and takeout the sole fish
This is necessary so that the fish would not crumble in the soup.
Add pumpkin leaves and add ⅓ water.
Cook for 5 minutes.
After 5 minutes, you will notice the leaves have shrunk because of the heat.
Mix well and put back the sole fish.
Cook for 5 more minutes
And EGUSI SOUP COOKED WITH SOLE FISH AND PUMPKIN LEAVES IS READY.
To watch the full recipe video, CLICK HERE