How To Make Wheat Flour Swallow
Whole wheat flour swallow is a low carb Nigerian swallow that is good for weight loss.
Whole wheat flour or wholemeal flour is a powdery food ingredient derived by grinding whole wheat grains.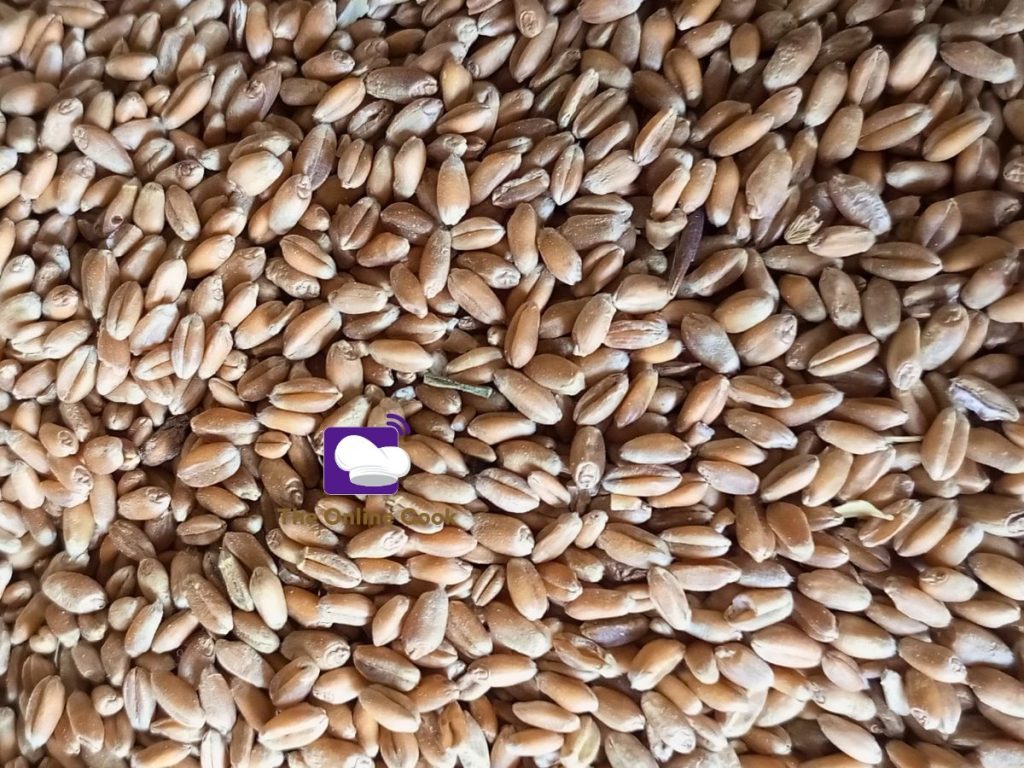 It is rich in proteins, fibre, antioxidants, vitamin B and minerals such as zinc, magnesium and manganese.
Also, it is one of the healthiest Nigerian swallow because of its benefits to the body which includes its ability to help with weight loss.
A wide variety of different ingredients are used when making different types of Nigerian swallow.
Ingredients such as rice, plantain, garri, yam, cocoyam or taro, dried cassava, semolina and many more.
Listed below are some Nigerian swallow recipes you may love to try.
In the quest for healthy living, many Nigerians have had to remove many types of Nigerian swallow from their diet because they were considered too heavy to aid weight loss.
Itemized below are the ingredients you needed for this healthy Nigerian swallow.
Ingredients for whole wheat flour swallow
Visit this shop for authentic Nigerian foods and ingredients.
Now I will be writing about how to make excellent wheat flour swallow that you would love because of its fluffiness and smooth texture.
How to prepare wheat flour swallow
Blend wheat grains into fine powder
Add 2 cups of wheat flour into a bowl
Mix the separated wheat flour with water till you get a smooth thick paste
Set wheat paste aside for later
Adjust your cooker to high heat
Place your pot on the cooker and add 2 cups of water
Allow the water to boil very well
Ensure your omorogun also known as wooden spatula is on hand
Take the pot of hot water off the cooker
Set on a smooth surface
Pour wheat paste into the hot water and mix immediately – this is done in order to avoid having lumps in your wheat flour swallow.
Reduce the cooker temperature to medium heat
Place the pot back on the cooker after mixing all the wheat paste into the hot water
Continue mixing while adding more wheat flour with your hands.
Do this till your wheat flour swallow becomes thick as it looks in the video attached below.
This whole wheat flour has no anticaking agent added so it is important that you add more wheat flour into the mixture with your hand so that you can feel for lumps in the flour and crush them with your fingers before adding to the mixture in the pot.
Scrape the swallow stuck to the wooden spatula and the sides of the pot back into the pot
Add 1/2 cup of water to the sides to the swallow ensuring that the water gets to the bottom of the pot
Cover the pot, cook for 5-6 minutes on medium heat
After 6 minutes, mix the swallow very well with your omorogun to get a fluffy whole wheat swallow
Whole wheat swallow is ready to be enjoyed with your favourite Nigerian soup.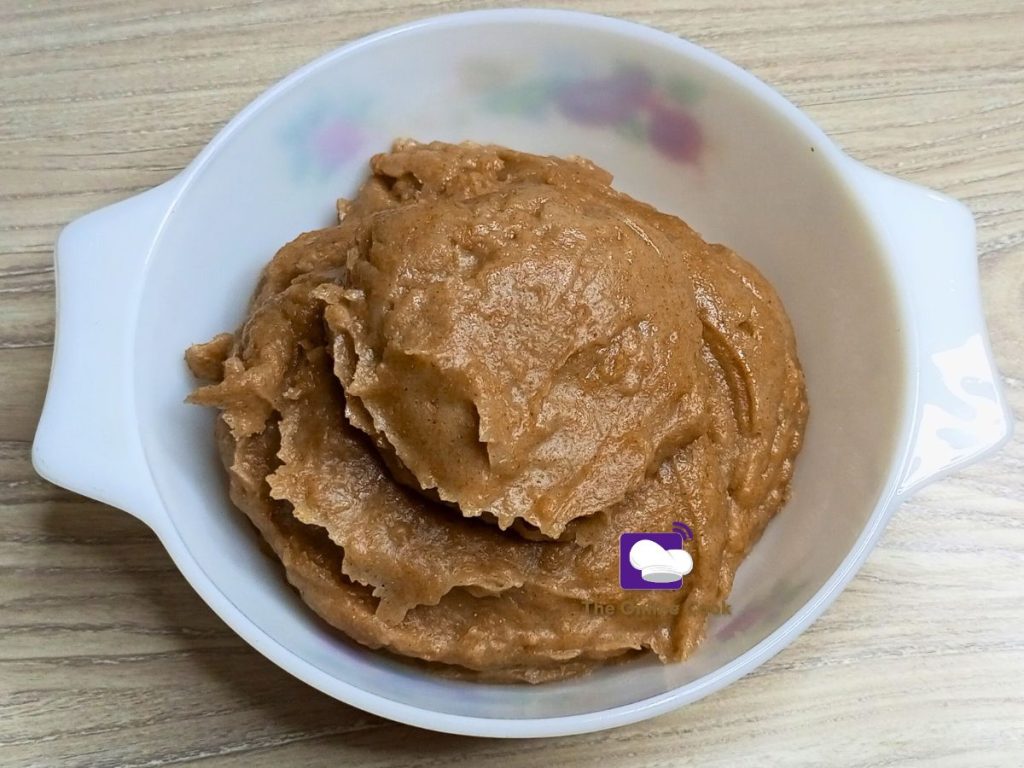 After cooking, wheat flour in its purest form turns brown hence its resemblance with amala as you can see above.
Here are some Nigerian soups suggestions that tastes great with with wheat flour swallow, I think you should try some.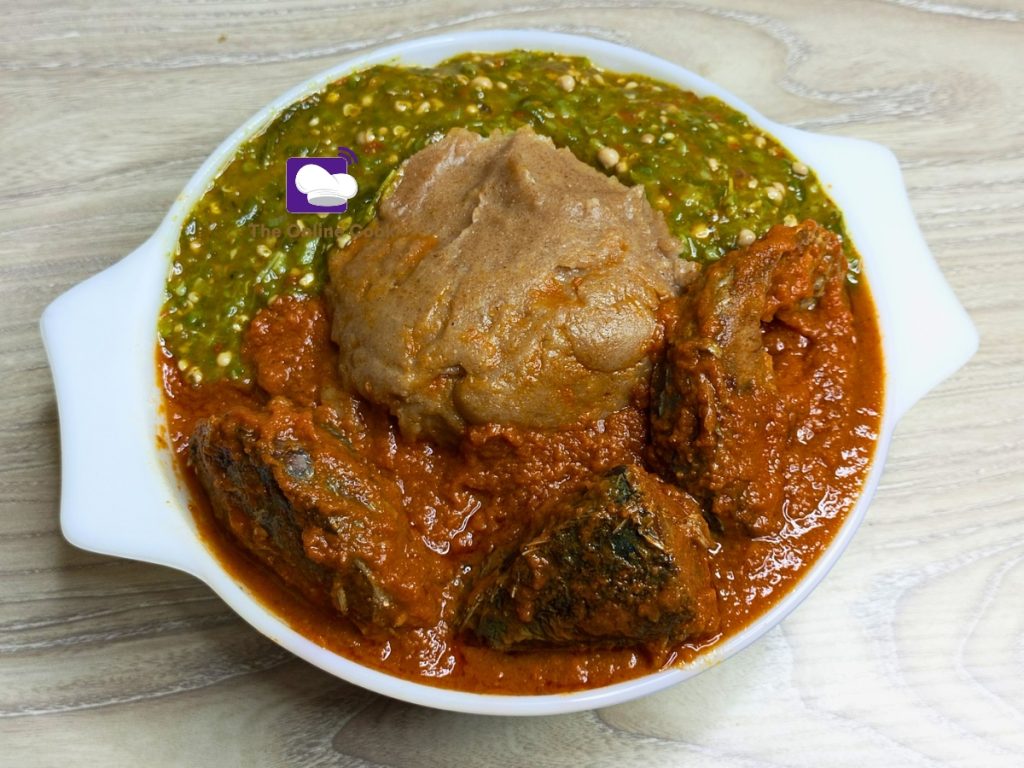 You should also check here for a wide variety of easy Nigerian soups recipes that you should try.
Watch this comprehensive video of this recipe on my YouTube channel by simply clicking on the video icon below.
Connect with me on YouTube by subscribing to my channel here . Support me by liking and sharing my videos.
Become part of this community by subscribing to newsletters from this blog as members are always notified whenever every time new recipes are published.
In conclusion, you should add whole wheat flour swallow to your diet so that you can enjoy the amzing benefits it has for our wellbeing.
The Online Cook ©2023