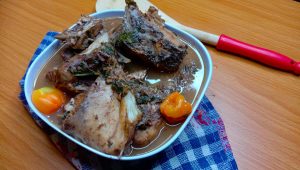 Cooking fresh fish peppersoup the Nigerian way is very easy with a proper peppersoup spice mix recipe. Peppersoup is a popular soup in Nigeria. It is popularly for its high nutritional values, medicinal benefits and low calorie content. Nigerians even drink different peppersoup combinations at leisure spots.
It is usually made with an array of native spices called peppersoup spices and in today's blog, you will find the list of spices used for peppersoup and their names.
Find the Video recipe of how to make it on this YouTube channel CLICK HERE
INGREDIENTS
8-10 Efirin( also called scent leaves or basil )
Croaker fish
3 tablespoons Crayfish powder
4 yellow pepper
⅟₂ tablespoon salt
2 seasoning cubes
1 tablespoon white pepper
Aridan (Uhio/Prekese)
6-8 Ehuru (African Nutmeg/Ariwo/ukposa/gujiya dan miya)
8-10 dried chilli pepper
1⅟₂ tablespoons Cloves (kanafuru)
1⅟₂ tablespoons fennel seeds
3-4 Gbafilo nuts
1-2 ginger roots
5-8 Grains of Selim(Eeru/ Uda/urheri)
1⅟₂ tablespoons Uziza seeds (Iyere/Edusa/ West African black peppers)
3-6 umilo nuts
The goodnews is, you can order for your peppersoup spice mix below and it contains all the spice listed above.
For weekly simplified cooking recipes please follow my blog!
PREPARATION
Clean the croaker fish (remove the gut and all dirt)
Blend aridan, ehuru, dried chilli pepper, cloves, fennel seeds, gbafilo nuts, dried ginger roots , grains of selim, uziza seeds and umilo nuts to powder.
Slice the fresh basil leaves (you can also use dried basil leaves)
Pour 2 liters of water in a pot
Add 5 table spoons of the blended peppersoup spices powder
Add white pepper, salt, seasoning cubes, crayfish powder, yellow pepper and cleaned croaker fish
Mix gently
Add sliced basil leaves
Let it cook for 35 – 40 minutes
After 40 minutes, native peppersoup with croaker fish is ready.
Let's talk about the common peppersoup combinations people enjoy.
Peppersoup and white rice – this is delicious and it leaves you full for a long time.
Peppersoup and boiled African yams – this is also another popular combo that is equally satisfying and delicious.
Peppersoup and boiled plantains – this is for people who have sweet tooth for food. The sweet combination of boiled ripe plantains and delicious low calorie peppersoup is enjoyed by people who love sweet foods and also watch their food calories intake.
Peppersoup and Eko or Agidi – Eko also called Agidi is a popularly low calorie food made from white maize. In Nigeria Elderly people love Agidi because it digests easily. Nowadays , Fitness enthusiast embrace Eko because of its low calories contents and the fact that it keeps you full for a long time.