Dear readers welcome !!! Today's article is on how to cook delicious fried palm oil fish stew with Panla fish.
This Nigerian stew recipe is similar to Nigerian tomato stew but the difference is the use of palm oil and local spices such as Iru (locust beans).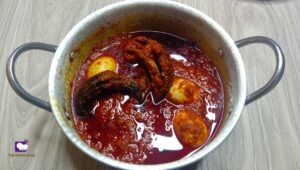 Cooking palm oil stew with Iru and Panla fish is so uniquely delicious that you would always want to cook it. If you are concerned about where to get Unadulterated Palm oil Check Here
Panla fish is easy to prepare, it is added to stews, soups and spicy sauce to create a pungent and addictive flavour.
When making palm oil pepper stew, Iru or locust beans (as it is called in english) and crayfish powder gives it a unique taste as well as a delicious aroma that is pleasing to our taste buds and nose respectively.
The most common combination for Palm oil stew is with white rice usually paired with dodo(fried plantains) or boiled brown beans.
The ingredients for Nigerian palm oil stew are as follows;
8 Scotch bonnet peppers
3 Bell Peppers
15 Tomatoes
3 meduim sized onions
1½ cups palm oil
8 panla fish
2 tablespoons Iru (locust beans)
3 tablespoons Crayfish powder
½ tablespoon Salt
2 Seasoning cubes
2 sachets Tomato paste
4 boiled eggs (optional)
¼ cup water(optional)
PALM OIL STEW PREPARATION
Rinse panla fish and set aside in a basket so that the water can drain out.
Slice half onions and set it aside
Put iru in a bowl add a lot of water and swirl with your hands so that an sand or grit in it will settle
Gently scoop iru into another bowl and dispose the water and the sand or dirt settled at the bottom
Rinse the tomatoes, bell pepper and scotch bonnet pepper in clean water
Pour the rinsed tomatoes, bell pepper, scotch bonnet pepper into the blender or food processor
Add 21/2 meduim sized onions to the contents in the blender, add some water and blend to a rough consistency.
Pour palm oil in a pot and allow it heat up briefly
Add Panla fish and fry both sides lightly
when the fish is properly fried, with the fried fish in the pot add sliced onions and Iru
Fry for 2 minutes
Pour the blended tomatoes and pepper mix in to the pot
Add crayfish powder, salt, seasoning cubes and tomato paste
Mix gently and cook for 30-45minutes
Or till the stew thickens and most of the palm oil used floats.
After 30 minutes , Nigerian palm oil stew is ready
Add boiled eggs and palm oil fish stew is ready to be served.
If you will like to watch the Detailed recipe video CLICK HERE